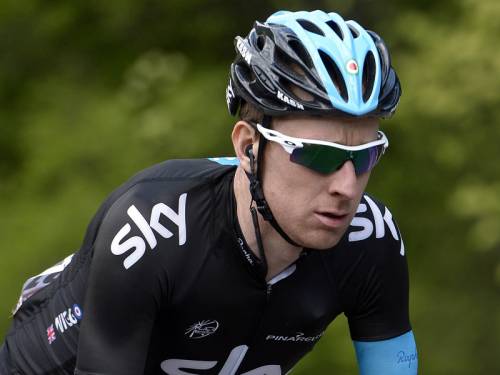 The long running saga concerning Bradley Wiggins, Chris Froome and the Tour de France finally drew to a close today as it was announced Wiggins wouldn't be selected for the Sky team in July due to an ongoing knee problem but as the conspiracy theorists start their rounds is there really more than meets the eye with this decision?...
In a statement on the Team Sky website team principle Dave Brailsford said:
"With illness, injury and treatment Brad has gone past the point where he can be ready for the Tour. It's a big loss but, given these circumstances, we won't consider him for selection. He hasn't been able to train hard since the Giro and now he needs further rest. Whilst we all know these things happen in sport, it doesn't take away from the fact that this is a huge disappointment for everyone in the team – and above all for Brad."
It's perhaps a decision we knew was coming having seen him struggle with a chest infection and tendinitis before withdrawing from the Giro earlier this month but it can be said whether or not Bradley Wiggins was injured, at some point a decision would have to be made regarding team leadership issues at the Tour de France and this latest conclusion certainly makes things easier for Sky management so could this just be a good bit of PR from Sky?
Well it wasn't actually Brailsford that broke the news because Richard Moore (respected cycling journalist and one with close links to Sky) wrote a piece that appeared in the Daily Mail this morning hinting that Wiggins would not ride the tour - but he also hinted at other things:
"The British team, having said Chris Froome would be leader at the Tour, are no longer confident that Wiggins is prepared to play a supporting role not only to Froome but perhaps also Richie Porte, the Tasmanian who is being groomed as a future overall contender. Sir Dave Brailsford, the Team Sky principal, could be prepared to leave Wiggins at home and travel to Corsica, where the Tour starts on June 29, with Froome as leader and Porte as back-up. Whereas Froome and Porte are close friends and near neighbours in Monaco, relations between Wiggins and Froome have been frosty since the latter finished runner-up at last year's Tour."
Reading between the lines is there a suggestion that Wiggins has dropped to third in line behind Froome and Porte because of things outside of the injury? Perhaps. Moore is a respected journalist and there are hints of something more 'untoward' in his language here but have the Daily Mail editors got to his piece and adjusted it to their own means? Lets not get carried away just yet.
The Daily Mail article was followed by a piece in the
Guardian
with a little more depth but less on the 'Porte' issue. Lets not beat about the bush, Porte and Froome are close, very close. They live near each other and train together and they are good friends. Is Wiggins becoming increasingly isolated? A drop down from Tour leader to third-man is quite a big step and i'm sure it will make interesting reading for Wiggins. This news does follow
calls from Shane Sutton
(Sky's performance advisor) for Wiggins to 'help' Froome in a back-up role at the Tour rather than try to ride in a team leader role, a sign that perhaps Sky were struggling to reign Wiggins in?
The fact that Dave Brailsford didn't make anything official until after the Mail and Guardian articles isn't really anything out of the ordinary as certain people or news outlets are often made aware early to test the waters and put something out there while the main source gets all of the housekeeping in order ahead of what is likely to be a media storm. The Sky press release is pretty standard though one turn of phrase from Brailsford has caught the eye of the twitterati. Rather than play the injury card and lay the entire blame at it's door Brailsford mentioned that they wouldn't 'consider him for selection' - a read-between-the-lines statement?
Another suggestion is that contract-talks may be an issue. Wiggins is coming to the end of his contract with Sky and it wouldn't be a major shock if he moved on in 2014. His relationship with Froome is obviously at a crisis and though Wiggins suffered with injury and illness in the Giro it was quite clear he was not as 'fully prepared' as he should have been. I've made no bones about the fact Wiggins looks a different person this year - a little vacant and less interested and lets face it he's achieved most of his life ambitions, perhaps he's lost the desire akin to how Olympic gold medallists (especially in track and field) often talk of feeling underwhelmed and disinterested when they finally have gold in the bag. Brailsford has to focus on the up and coming, younger riders if he wants the Sky legacy to continue and of course Bradley Wiggins is unlikely to feature in this in the long-term. In any contract negotiation Wiggins is likely to be looking for a pay increase following his successful 2012 and is likely to want reassurance of some form of Grand Tour leadership - can Brailsford really afford to offer these things? Maybe not.
Of course, take away all of this conspiracy talk and media hype and you are left with a man who has an injury and unable to train properly. Science says if this is the case he probably doesn't have the time to prepare for the Tour de France to a standard where he is able to lead the team or perform active support roles. Take the story away from the situation and in any other team it wouldn't even make the news - it's just a straightforward 'injury prevents rider from racing' story. This time it does create a welcome moment of relief for Sky management as it takes away the decision making and any uncomfortable situations from the actual Tour, no doubt Brailsford may be a slightly happier man tonight and of course Chris Froome is probably on the verge of imploding with happiness but whilst conspiracy theories sound convincing, the 'injury' also makes for a perfectly rational reason to take Wiggins out of the Tour. One can't help but feel that now the excitement many held for the potential fist fight in the Sky camp during the tour has merely melted away, perhaps they are now looking (a little too hard) for something else to get their teeth into.
I realise this post only adds to the conspiracy talk and even makes for some credible scenarios but it's only fair to look at all of the possibilities. My own opinion is that something does smell rather odd seeping from the Team Sky camp today, but it's perhaps more likely to be the smell of bacon rice-cakes than the stench of a shit-storm. The real answer is of course that nobody really knows...