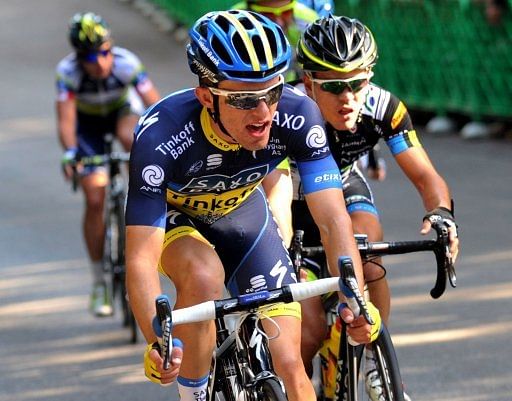 In yesterdays Giro d'Italia rest day round-up I made a point of talking about this years Young Rider Classification and in particular Rafal Majka - Saxobank's new kid on the block. He again finished with the big favourites in today's tough stage from Valloire to Ivrea and finds himself just five seconds off the White Jersey and 8th overall in the General Classification. So who is Rafal Majka? And where has he come from?...
Rafal Majka climbs like a Spaniard, an Italian, a Colombian - but he's none of these. In fact he's a Polish national and though not a country famed for it's mountainous terrain Majka clearly has climbing in his blood. He looks like a climber too, weighing little more than 62 kilo's which for a rider of 5ft 8" is pretty featherlite and at just 23 years old there is room for improvement, both physically and technically and that's what makes him such an exciting rider.
He was riding as an amateur between 2008 and 2010 and he had some good results but nothing 'spectacular' or at least anything that marked him out from any of the other and perhaps better known up-and-coming riders that now find themselves struggling amongst the pro and not so pro ranks. He was picked up by Saxobank in 2011 but played the loyal domestique role, picking up little in the way of results for himself though he did ride the Vuelta a Espana - remembering at the time that he was a first year pro and this shows there must have been somebody backing him somewhere as a more than capable rider.
But it was 2012 that should have been Rafal Majkas breakthrough season. Hopes were high after proving he had the stamina in the 2011 Veulta and Saxobank chief Bjarne Riis spoke of a rider capable of finishing amongst the top 10 at the Giro d'Italia, describing Majka as a 'raw talent' he announced that at just 22 and in his second year of professional racing he would lead the Saxobank team at the first Grand Tour of the year, the Giro. That's a whole lot of faith for a man of Riis's standing to have in a young, barely heard-of rider like Majka but inevitably it wasn't to be as Rafal picked up a nasty injury in early spring putting him out of action (not even touching a bike) for two months before any rehabilitation could even begin. In the end it was decided Majka would miss much of the season and instead look to build form for the Vuelta again at the end of the year where he would provide support to team leader Alberto Contador in the mountains - which he did, time and time again, helping his team leader to a memorable overall victory as Contador once again stamped his authority and dominance on Grand Tour racing. Rafal Majka was helping the best rider in the world which of course meant he was learning from the best rider in the world - and it's certainly showing now. Majka said himself of the experience:
"It was only my second grand-tour experience, and I am also still only 23 years of age, so to be right next to Alberto on some of the hardest mountains in the race was an incredible experience and a moral boost for me. Sometimes when I looked back after a really hard pull, it was so encouraging to see that there were only five or six guys left, it truly felt amazing. It shows I am on the right path in my development."
But if Bjarne's words of wisdom didn't ring true for Rafal Majka at the 2012 Giro, then they certainly do now as Rafal Majka finally finds himself leading the Saxobank team - a year delayed - at the 2013 Giro d'Italia and he's doing it with some style. The Polish star in the making climbed into the Giro d'Italia's Maglia Bianca, as the best young rider in the race, on last Tuesdays tough stage to Altopiano del Montasio, attacking the favourites on the 20% sections and finally crossing the line in 6th position alongside race leader Vincenzo Nibali. But it hasn't been a one off. Majka has been consistent in this years Giro and has finished well in all of the tough stages and managed to go with all of the moves today to secure 8th on the stage and 8th overall - this is the third week and he's still showing no signs of weakness though there is a lot of climbing left to do.
Majka lost the white jersey earlier in the race to Carlos Betancur who has established himself as a top rider this year aswell, but it's only a 5 second deficit and without the bonus seconds on each stage Majka would still be in white. He still looks hungry and I'm predicting Majka will end the race in the Maglia Bianca and well within the top 10 overall though only time will tell - if he doesn't Rafal Majka can at least leave the race knowing he climbed with the best that a three week Grand Tour had to offer and at only 23, he's going places. Big places.