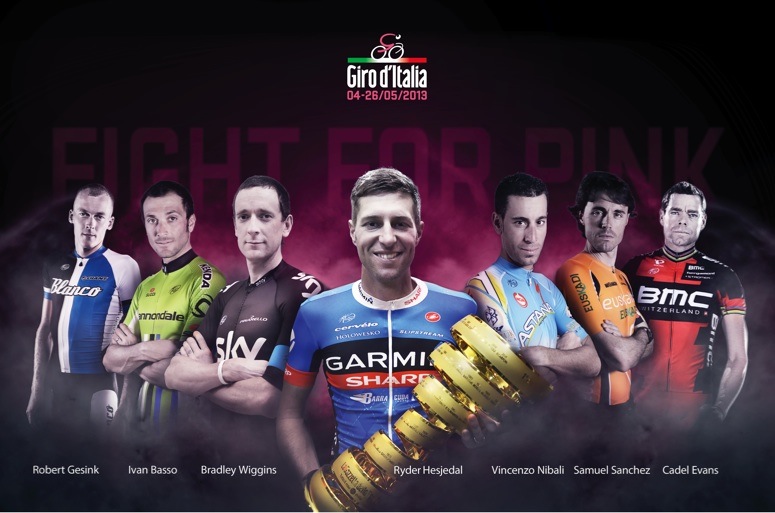 We are now just two sleeps away from the first Grand Tour of the year and it's shaping up to be quite an exciting prospect even if real 'favourites' are a little thin on the ground - even thinner now that Ivan Basso has withdrawn due to a 'lemon sized' cyst in the most uncomfortable of places and Jose Rujana has been held back by his Vacansoleil team thanks to an ongoing doping investigation but there are still riders looking to make an impression on this race and that extends beyond Bradley Wiggins and Vincenzo Nibali. So, who are the favourites?...
Bradley Wiggins
Is Wiggins 'The' favourite or just 'a' favourite? Well the British media have him firmly set as 'the' though there are suggestions from a few of those in the know that Wiggins may be going into this race a little 'undercooked' and though he says he's done nothing but hard work since January 1st and his overall strategy is very different to that of last year it's hard not to notice his lack of results this year. This can of course be explained away because unlike last year Sky have placed Wiggins, deliberately, in races lacking TT miles to see how he adapts to the pressure of climbing for victory rather than relying on his ability in the 'race of truth' which is something that is likely to play a big part in the years Giro. There are plenty of TT miles but the climbs of the Giro are not the steady drawn out gradients of the Tour, they are irregular and eratic and we know it's something that hasn't suited Wiggin's riding style in the past - add to this the re-introduction of bonus seconds on every stage and this race will be far from a walk over for the Brit. He may gain time in the time trials but those with better climbing legs will be looking to outsprint him to the finish at every available opportunity to claw those seconds back and this is likely to be Nibali's tactic - he does have a certain turn of pace that perhaps Wiggins lacks in the final metres of a climb. The irregularity of the climbs also make pace setting by the Sky train more difficult but Sky might not use this tactic constantly like they did in the Tour - if other riders want to win this race the onus is on them to ride on the front in an effort to take the bonus seconds at the finish, Sky or at least Wiggins is unlikely to put in all that effort leading the bunch up the slopes only to be outsprinted on the line, he might prefer to sit back and keep something in the tank so that he has a chance to contest the finishes himself. Is Wiggins the favourite? Probably. He has the best team and besides, he's already talking about the 'double' and he hasn't even turned the pedals in Italy yet...
Vincenzo Nibali
This race has definitely been set up as a two way fight between Wiggins and Nibali and yes, I suspect both will finish on the podium but this time it won't be so clear in which order. Vincenzo Nibali has worked on his time trialing and though he will never match Wiggins he will limit losses. If there is a rider who can snatch time back from Wiggins it is Nibali - those bonus seconds are precious in this race and every single one will count come the finish. He's a man in form and with victory in Tirreno-Adriatico and the Giro del Trentino if this race was judged on form alone he would be the out-and-out favourite. He looks lean, sharp and focused which is something that has let him down in the past but we are assured he has done his homework this year. I suspect if any team is doing the majority of the pace setting this year it will be the Astana team - there are bonus seconds to be had at intermediate points too and while Sky will be happy to watch the breakaways go off up the road and clear them all up (and even winning stages and taking those too) Astana will be intent on dragging them back and getting maximum points. Looking at the roster Astana are bringing a very strong team here too with mountain goats and powerhouses like Tiralongo and Kessiakoff who could set a high enough pace on the climbs to even put the hurt on Sky.
Ryder Hesjedal
One thing Garmin-Sharp are particularly good at is staying well and truly off the radar. Keeping a low profile is likely to be of great benefit to Hesjedal as all the media attention focuses on Nibali and Wiggins leaving the Canadian out of sight and out of mind - an extraordinary feat for a defending Grand Tour Champion! Hesjedal won this race and made his name last year but don't let this lure you into thinking he's a one hit wonder, after all he is 32 so where has he been all this time? Well, working hard and with the help of Garmin finally coming good and living up to his potential. His form has been building slowly throughout the early season culminating in a great ride including a solo attack, finally finishing 8th overall in Liege-Bastogne-Liege so it's fair to say he's heading in the right direction. He comes armed with a strong climbing team too with the likes of Stetina and Vandevelde. Coming here as defending champion will certainly give him a boost and there will only be one thing on his mind this year - winning.
Samuel Sanchez
At 35 he's clearly no spring chicken but he still targets the Giro to win and it would be nice to see him bow out on a high. In reality results have been thin on the ground for Sanchez and this is likely to be the last stab at anything on this kind of level - he's more likely to try and hoover up mountain points and bag some big stage wins than target the overall but every rider has their aspirations and if he's not in great shape right now he might come good in the final week. The main problem for Sanchez will be that he's likely to lose packets of time in the time trials so any chance of staying near the front of the GC will require some very aggressive riding in the mountains which should at least make for some entertaining viewing.
Michele Scarponi
Like Sanchez there are not that many rolls of the dice left for Scarponi but he was the winner here in (somewhat ironically) 2011 following the suspension of Alberto Contador. He's looked in good shape this year (third in Catalunya, fifth in Liege-Bastogne-Liege) and he's always quite an aggressive rider and he will have to be as time trialling really isn't his thing. I can see him putting in an aggressive ride and taking a stage win or to but a podium place might be a big ask.
Cadel Evans
A surprise starter here as since 2003 its all been about the Tour and he still maintains it will be the same this year as he comes to the Giro on a form finding mission rather than with intentions to win. Trouble is Cuddles doesn't like to under achieve and if he gets the bit between his teeth he will put 120% into any ride. He certainly in the twilight of his career and perhaps it's starting to catch up with him - there is already questions surrounding just when he will hand the baton on to Teejay Van Garderen but Evans maintains he still got more to give. His performance last year suggested otherwise but he has shown a few glimpses of the 2011 Cadel this year in Oman and Trentino but does he really still have the legs for three weeks of the Giro? And if he does surely he won't have the legs to do justice to the Tour? I suspect he will keep an eye on how he's feeling and what his body is telling him and if it turns out he can come good for something special at the Giro we might just see him grace the podium.
Robert Gesink
Blanco's man has been touted as a Grand Tour GC rider for as long as I can remember or at least it seems that way
.
A prolific under achiever? Maybe not but if he's to win something big he does need to step it up a notch. He's finished fifth in the tour and often finds himself just outside of the podium places in stage races galore but he did win the Tour of California last year which silenced a few critics. He was sixth overall in Catalunya this year and 6th in last years climbing heavy Vuelta a Espana so we know he can go uphill well but he can turn his hand to a decent time trial too. It's unlikely that he will really threaten for the win but could this be the year he reaches the podium in a Grand Tour?
Mauro Santambrogio
The former Lampre and BMC man has come good at Vini Fantini-Selle Italia this year with consistent performances throughout the early season proving himself more than capable of hanging on to the wheel of Vincenzo Nibali when the road heads upwards. He finished 2nd overall in the recent Giro del Trentino and he's looking strong but a three week long Grand Tour is a very different beast - expect to see him battling for stage wins and eating up the tarmac on the climbs but he's been full of surprises so far this year and I wouldn't rule out a top 5 finish by any means
The Rest
It's a three week race on varied terrain so in reality anything can happen. Some riders may start in poorer form only to come good when it matters in the final week while those who look to be on their A-game right now might pop and not have the legs to take them all the way. It's not impossible that someone puts in a dangerous performance whilst Nibali and Wiggins are caught napping either and there will be plenty of riders looking to take advantage of those bonus seconds. Domenico Pozzovivo was a real contender last year but he's recovering from cracked ribs right now so his form is a bit of an unknown entity - his super small frame means he could lose time on flatter stages when the pace is high and the wind is blowing likewise he's not going to set the race alight in the time trials either. Carlos Betancur, Pozzovivo's AG2R team-mate might be a better bet - the latest Colombian sensation has been in great form all year but he could be more of a stage hunter than a GC man. Movistar are without both Valverde and Quintana, instead backing one time Vuelta winner Juan Jose Cobo who's unpredictable frame of mind and erratic form means a different rider turns up to race on any given day but if it doesn't work out for Cobo there are others who can do well here like Beñat Intxausti. Radioshack look soread thin for GC men thanks to Andy Schlecks poor (but getting better) form and the suspension of brother Frank, their best bet here is likely to be Robert Kišerlovski who can put a handy TT in and climb with the best. I can't finish this post without mention that if Wiggins is 'undercooked' then Sky domestiques like Sergiro Henao and Rigoberto can hold their own with most of the team-leaders elsewhere. And Keep and eye on BMC's Taylor Phinney.
The excitement builds and the first Grand Tour of the year is always highly anticipated but often a relative unknown where riders form and intentions are concerned. This years edition of the Giro looks set to be a classic, especially if Wiggins, Nibali and Hesjedal are all on fine form. The balancing of the time trials with the bonus seconds could be a master strong and ensures there will not be a runaway winner here, well maybe not anyway...
For a full race preview and in-depth analysis of all that is to come head over to Inner Ring as usual for the low-down on all things Italia.