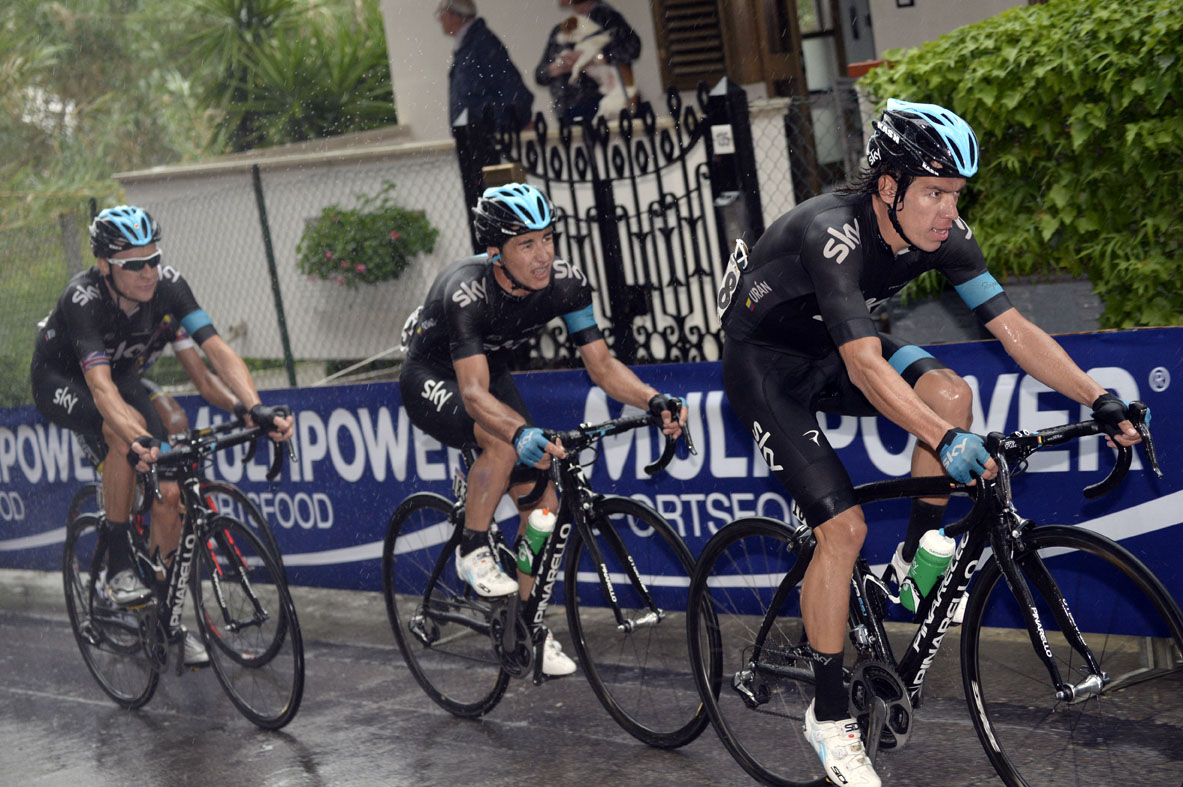 It took minutes for a large proportion of twitterati and cycling media to write off Bradley Wiggins Giro after his crash on a rain sodden descent of today's stage left him 1 minute 32 seconds off the Maglia Rosa and 1.24 back on Nibali and the other major favourites but is it really all over for Wiggins?...
There are obviously a number of factors which will determine whether Wiggins gets success in Italy so it's important to look at the race in general rather than focus on today's crash which throws up a few issues and not just the time loss.
We know that in the past Wiggins has struggled to follow every move in the high mountains preferring to set his own tempo rather than go on the attack so much of Wiggins Giro success was likely to depend on the long individual time trial which happens to be tomorrow. Before the race started it was almost assumed that Wiggins would take the Maglia Rosa in this stage and it would be down to the other favourites to try and wear him down in the mountains and close the deficit.
So is this still the case? Well tomorrows Time Trial is 55km in length - comparable to the final 53km TT of last years Tour de France in which Wiggins put 3 minutes 38 seconds into Vincenzo Nibali. Assume the same time gaps appear tomorrow Wiggins would find himself not only clawing back the 1.24 he owes but also jump into the lead by around 2 minutes - 2 minutes is a lot of time, we have seen how closely fought recent Grand Tours have been when the head to the mountains and it's almost impossible to get a two minute advantage over a big favourite in a mountain stage, without the challenging rider risking potential catastrophe by blowing up during a crazy solo attack.
The above assumption assumes that Wiggins is in the same kind of form as he was last July - which he isn't. Or at least it looks that way though we won't really know until further into the race as it's not often so many GC contenders have shown their cards this early in a Grand Tour. This leads us to our next point - Wiggin's attitude.
I have picked up on some slight negativity's to Wiggins of late - he doesn't look like that hungry rider he was in July last year though the format of this race may dictate that he isn't so confident going into it - there is a lot of climbing here and the TT's will be less in his favour here, especially the second as it's basically one long climb which suits the lighter grimpeurs as much as the time trial specialists. He looks a little uninterested - he found himself off the pace in stage three thanks to a lack of concentration and he's been spotted riding in some strange places like at the front of the final 3km of a sprint stage yesterday and at the back of the bunch on the flat and during some descending today - a sign of boredom perhaps? It must be difficult for a rider who had the year Wiggins had in 2012 to really feel motivated about anything as whatever happens it's not likely to live up to a Tour/home Olympics double. His mind has of course been elsewhere with talk of leading Sky at the Tour de France in July which shows a slight lack of commitment to the Giro, shouldn't his mind be on winning one Grand Tour before thinking about chasing the double?
There was speculation before the race that he wasn't race-fit too, or that he looked 'undercooked' but in reality it's too early to tell. He's unlikely to be in the same form he was in coming out of the Tour last year where he peaked to perfection after a very long, hard and vigorous build-up. He has been spotted out of position during the Giro but he's also put his nose in the wind leading out the sprinters add to this the fact that any ill looking form could be a bluff and it's anybodies guess right now what kind of shape he is in.
Can Wiggins win the Giro d'Italia? Yes is the simple answer but if he doesn't it's likely to be as much about his attitude or state of mind as it is about today's crash. Sky clearly have faith in him - they pulled Rigoberto Uran and Sergio Henao from the front to help Wiggins after his crash which effectively kills any GC hopes either of those riders had or at least seriously hinders them, it was widely believed that if Uran was going well then he could be the 'plan B' here for Sky, but if today's actions are a real clue then it looks like Sky back Wiggins so strongly that there is no 'plan B'. Tomorrows Time Trial will be crucial - a hard crash can put a lot of stress on the body and can slow a rider down for a while afterwords as the body fights to protect and repair itself which may effect the amount of time Wiggins can notch up against the likes of Nibali and Hesjedal. We are only a week in and the real race is yet to start, anything can happen in a three week Grand Tour. Write a rider off on day 7 after a crash and 1.24 deficit? Not when the rider is likely to be wearing pink after day 8...