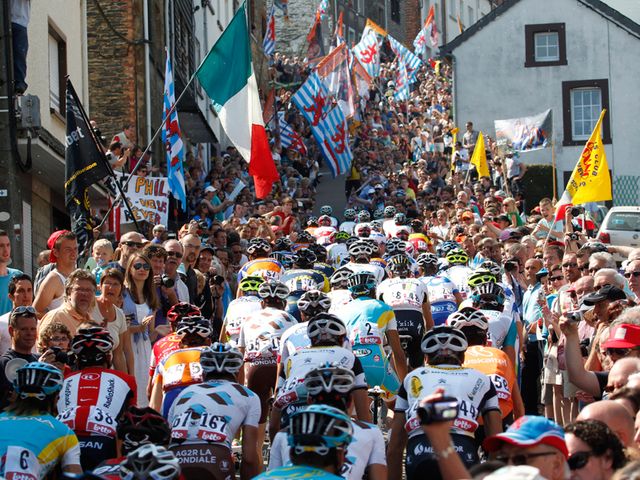 The final race of the Spring classics and the oldest, this race first appeared in 1892 and has achieved notoriety thanks to a long history, a record breaking Eddy Merckx and
Bernard Hinaults fingers.
Many think of Belgium as relatively flat but this Ardennes classic carries 4700metres of climbing - comparable to a Tour de France 'mountain stage'. It's not just the climbing - the undulating route means maintaining pace and rhythm is a difficult task and there is little time to take a rest. The winner here will take on a gladiatorial task and must be in the form of their lives, so lets take a look at those in with a shout of glory on Sunday...
Philippe Gilbert
Phil a Favourite?
The Belgian rider knows these roads - it's where he grew up and if the Ardennes are the main focus of his season then time really is running out if he is to get anything out of the 2013 classics. Luckily for him he looks to be coming back into some form. He's not the same rider that we saw wipe the floor with the Ardennes in 2011 but he's looking far sharper than the one who struggled through 2012. He may have have made his move to early on the Mur mid-week but he is unlikely to make that same mistake here. Arch rival Peter Sagan is sitting this one out which should at least give Gilbert a confidence boost ahead of Sundays race.
Alejandro Valverde
The Spaniard has looked good all season and said himself at the start of the Ardennes that his main aim would be Liege-Bastogne-Liege as the course suits him more favourably. If there has been a hint of any power struggle between himself and Colombian team-mate Nairo Quintana then I doubt we will see any of that here. Movistar enter the race with one leader and one leader only - Valverde and if he isn't everybodies favourite rider then he is one of the race favourites.
Joaquim Rodriguez
Always up there in the Ardennes, J-Rod suffered a thigh-strain in the Amstel Gold race and although he raced Fleche Wallone he counted himself out of any contention as he raced to find fitness in time for Liege. Like Gilbert it's his last hope for any Classics success but the course doesn't finish with the super-steep ramp he prefers. That said there is plenty of tough climbing
and if one of the climbs towards the end forces a selection he is likely to be part of it.
Chirs Froome
Sky's classics season has been more miss than hit though Sergio Henao did finish second at Fleche Wallone but the focus here is likely to be on Chris Froome. More of a Grand Tour rider this kind of route does suit some of Froome's climbing and sprinting credentials. The main worry is what kind of form Froome will be in, we havn't seen anything of him since Corsica so perhaps he will be off the pace somewhat.
Vincenzo Nibali
Yes, he was racing in Italy today, winning the Giro del Trentino ahead of Wiggins in fact but he will be on the start line on Sunday. Recovery from Trentino may be an issue and the logistics involved in getting him to the race will not help matters but he's clearly in form and Nibbles has unfinished business with this race - he rode away solo last year only to be caught shortly before the end by eventual winner Maxim Iglinsky and the pain on Nibalis face was all to clear to see - both physical and emotional.
Alberto Contador
He's been in the press alot recently talking of his 'tiredness' and he has had a busy start to the year. He took a week long break and decided he was fit to ride Fleche Wallonne mid-week but on the day couldn't find the legs or the rhythm and called it quits on the final climb rolling in well down the order. He's hoping to find his race-pace again in time for Sunday but whether he will find the form to beat those who come here with a season long purpose is yet to be seen.
Struggling for form?
Roman Kreuziger
If Alberto Contador is struggling then look no further than team-mate Roman Kreuziger - he looked a picture of physical perfection riding away to victory on the Cauberg in last Sundays Amstel Gold race and if he's carried that form through the week there is nothing to say he can't do it again.
Dani Moreno
Similarly if Joaquim Rodriguez is still suffering with Injury on the day then team-mate and Fleche Wallone winner Dani Moreno will be Katusha's man of choice if he's there in the closing kilometres. He made the Mur de Huy look ridiculously easy on Wednesday and clearly has good legs.
Michal Kwiatkowsi

A revalation
I picked him as a slightly odd-ball choice for Fleche Wallonne and he didn't let me down finishing a respectable 5th. At 22 years old Kwiatkowsi has been a revelation this year, both in the classics and stage-races and one things for sure - this rider will win big in the coming years. Whether he can jump the gun and win a monument at this tender age is another question but he's moved from my 'odd-ball' list to my 'certified favourites' selection.
Dan Martin
Much like Kwiatkowski I tipped Martin to do well in Fleche Wallone and he finished 4th. The Ardennes is his favourite week of riding and he thrives on tough, tough stages and one day races. One thing that might not be in his favour is the finish - he's a fan of the real leg-breaking gradients into the finish line and Liege lacks one but if he makes the final selection he doesn't have a bad sprint on him either.
The Rest
Grand Tour season is just
around the corner
It's wide open really and it will all come down to how riders are feeling on the day. Garmin-Sharp come armed with Giro hopeful Ryder Hesjedal as well as Dan Martin and his form seems to be shaping up nicely. I think he will be playing second fiddle here but should he find himself in the mix he is more than capable. With Quintana and Henao taking much of the Colombian press there is another rider waiting in the wings - Carlos Betancur had done his AG2R team proud this year with some great racing, especially in the last month or so. he finished third in Fleche Wallone opting to try riding solo to victory and though he was eventually swept up by Henao and Moreno he still managed to hold off the rest of the Peloton for a spot on the podium. Cannondale may not have Sagan at the start but they have his partner in crime Moreno Moser - he's looked good throughout the early season and this long, gruelling race suits his riding style. He's super aggressive and loves to attack often carrying good legs into the final kilometres of races like this. Euskaltel come armed with a stella squad including the likes of Samuel Sanchez and Igor Anton but whether these short sharp climbs will suit these Basque mountains goats is another question whilst those teams famed for Classics form like Blanco, Vacansoleil and Lotto-Bellisol have all got very little to show for this years races expect to see some last ditch attempts at glory from riders like Thomas de Gendt, Jelle Vanendert, Bauke Mollema and Tom Slagter. I can't let this post pass without also including Simon Gerrans, just because.
It's the last Spring classic of the year and there are plenty of teams and riders who had high hopes but haven't performed literally forcing them to try and get something out of Liege if only to please eager sponsors. The race itself is one of my Favourites and usually provides plenty of attacking riding and drama. Take the time to watch the race and say farewell to the classics but don't let it get you down - the passing of Liege-Bastogne-Liege means that the Giro d'Italia is only just around the corner and soon we will be well and truly into Grand Tour season.
For a full race preview of this Sundays Liege-Bastogne-Liege with details of the route, the climbs and the history head over to
Inner Ring
for the usual in depth analysis. A full startlist can be found
Here
.