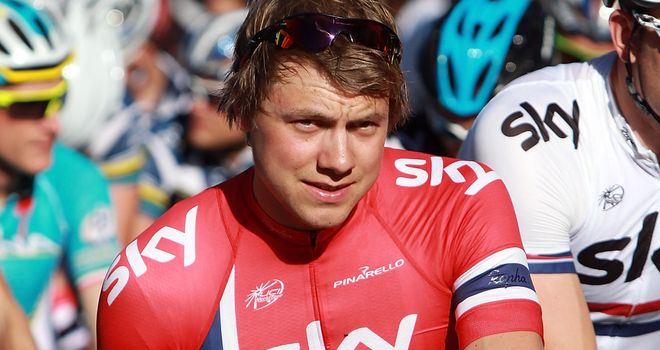 Dave Brailsford famously described Sky's 2012 Classics season as 'shit' and vowed to do better but in truth 2013 has been much the same. Given the resources at Sky and a clear dominance in stage races and Grand Tours everything says that Sky should be performing much better in the Spring, so whats going wrong? And can Sky still win a classic this year?...
It's not entirely clear whether Sky have even made winning a monument a goal - at least not in the same way they made Grand Tour success such a priority - though Shane Sutton did suggest that the riders were ready to
die for eachother
to win in spring. Sky have also undertaken a new strategy this year in which they will race less and spend more time training at their permanent base in Mallorca under the direction of Tim Kerrison. If the classics were supposed to show whether the new method was working then it's not looking good, however the 'race less, train more' strategy does seem to be geared more towards the Grand Tour style of riding.
The Sky train is a beast of a machine
Is it this Grand Tour style of riding that has made winning in the classics difficult? Sky dominance in stage races is clear to see, both last season and even more so this year - they are lucky enough to be able to secure the budget to bring in the very best riders and use all of the coaching/training/wind tunnel/labs to better them further. Riders like Richie Porte, Chirs Froome and Kiryienka have gone from being faithful Domestiques to Super-Domestiques and in the case of Froome, Grand Tour contenders. Jonathan Vaughters described the situation:

"not sure why ppl are surprised by sky:a few €800k guys pulling a €900k guy, who then pulls for a €1.3m guy,who helps a €2m guy"

- And though it may be a little tongue in cheek, it's a pretty good analysis - Sky have the strongest riders, riders who would be team-leaders in any other WorldTour team working as domestiques. Nobody else can match Sky for the man power at the front of the race. The 'mountain lead-out' sets such a high pace that literally nobody can gain the momentum to attack from the front of the bunch, it's a solid tactic even if it is much criticised for being boring. It does work - In a stage race - The flat, cobbled classics are simple to unpredictable to control this way. Sky have tried and failed, the constant attacks and sketchy terrain make it difficult to follow every move, indeed lose a few yards on the cobbles of Roubaix and you might never get them back again. The classic style riders are, in general, stronger more rouleur types - it's certainly not about the climbers here and attacks are bigger and more sustained. Not even Kiryienka and Ian Stannard can keep the pace with the likes of Fabian Cancellara.
Not even Sky can hold Fabu's wheel
So Sky struggle to use their favourite tactic, but what about the riders? Well I've already said they have probably 'the' best domestiques and stage race riders in the world, but are there any riders of real 'Classics' pedigree? Sky seem to have maybe 3-4 guys who can all perform well on the cobbled stuff and whilst most of the time Boasson Hagen is the designated team leader they do have options and this itself can cause problems as it promotes more of an everyman-for-himself type mentality. This brings us to the issue of Edvald Boasson Hagen - Sky have supported him, blindly perhaps, for several years in the Spring Classics and frankly he has failed to produce the goods. He just doesn't seem to have the legs by the time the race hits the finish and while he is evidently a strong rider, he isn't the 'future Eddy Merckx' he was once billed to be. Having said that Boasson Hagen is still an asset to Sky, in fact in 2012 he was 6th overall in the
CQranking
league table and Sky's second highest point scorer, behind Bradley Wiggins for obvious reasons. Geraint Thomas has looked strong, as he did back in 2011 but his positioning evidently needs work as he's been involved in accidents in all of the monuments this year. Stannard was in great shape at Milan-San Remo but having had a cold coming into the cobbled classics his form dipped slightly. At 26 he is definitely one to watch, especially for hard, flat classics like Paris-Roubaix because his weight seems to limit him in Flanders and the Ardennes. He's been Sky's best placed Classics man this year finishing 6th at Milan-San Remo. Bernhard Eisel finished 12th in Paris-Roubaix and Edvald Boasson Hagen a very dissapointing 17th at Flanders was his high point. To see Sky not even scrap a top 5 is something of a rarity these days.
Stannard has been Sky's highest placed rider.
What Sky don't have is a proven classics man, indeed this is what many WorldTour teams lack but if there is one team who has the influence and financial backing to employ one then it's Sky and I think we might see some changes in the transfer market at the end of the year. It's easier said than done though, just exactly who is a proven classics man? In the past ten years Paris-Roubaix, Ronde van Vlaaderen and E3 have been won 20 times by either Fabian Cancellara or Tom Boonen. (Of the other ten races, they were 2nd three times, third once and Boonen's teammate won twice) - an astonishing stat and a telling one. Basically if you want to win a classic, you really need one of these two riders on your team. Fabian Cancellara will be moving at the end of the year with the demise of Radioshack - but where to?...
Forget the cobbles though as the Classics don't end here. Up next is Ardennes week with glory to be had in the Amstel Gold race and Liege-Bastogne-Liege and these races are far more likely to suit Sky than Flanders and Roubaix. Sky's stage-race tactic of the 'mountain train' or setting the pace on the front can work on these undulating courses - we have seen them do similar on the hilly, classic type stages in week-long races and with the amount of climbing throughout it is very possible that Sky can keep the attacks at bay and dominate until the finish.
Talking of the finish - Amstel Gold no longer finishes on the Cauberg so it isn't just a case of the puncheurs like Gilbert and Sagan sitting on the Sky train to the foot of the climb and then skipping away to victory, this year the finish line will come two kilometres after the Cauberg opening the race up to a whole host of outsiders but also making the final climb perhaps a little more controllable - if somebody jumps away here, there still time for Sky to bring them back before the finish.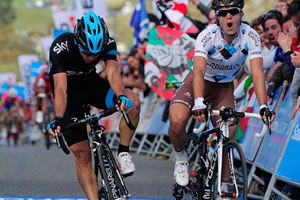 Henao is in tip-top form for the Ardennes
Sky come to the Ardennes well equiped too. While Boassen Hagen, Geraint Thomas and Stannard can perform well here it's unlikely they will be given the chance, at least at team-leadership level anyway but waiting in the wings are Sergio Henao, Rigoberto Uran and Jon Tiernan-Locke. Tiernan-Locke is a punchy climber and these courses definitely suit him but it's more likely he will be there to help the Colombians, or fill in if the chance arrises. Rigoberto Uran is a master on these long undulating course and while Henao is being tipped for future Grand Tour success, Uran looks likely to be a really hilly-classics man. Henao though is in astonishing form - just look at his performance in the Tour of The Basque Country, climbing with the likes of Quintana, Contador and team-mate Porte. If I could chose one rider for Sky's Amstel success it would be Henao.
Trouble is just as their are cobbled specialists and powermen disrupting Sky's tactics in the cobbled classics, there are also hilly specialists likely to cause Sky problems and who are perhaps better tips for the victories. Gilbert is usually a menace here but we know he is struggling with form. Peter Sagan on the other hand will be looking to make amends for Flanders failure and arch-rival Fabian Cancellara will not be their to foil his plans this time. If Sky do use their stage-race tactic, the one rider they are unlikely to shed is Sagan and we all know what will happen if he gets dragged to the line.
So Sky do have options but is there enough Classics experience there to carry it through? I think they will certainly make the podium but I'm unsure about victory, the Ardennes have Sagan written all over them and there are other riders capable too. Sky probably are a 'Grand Tour team' but if they do find a way to apply that tactic to the one day races then there will be trouble ahead. They will still be hungry for some form of Classics success so expect to see them trying hard again. Can Sky win a classic? This year myabe not, but I have a feeling next year might be a different story...