Its a simple enough question and frankly, at this moment in time there could be an equally simple answer but we won't head there just yet. Of course when I say can anybody else win Paris-Roubaix - I mean can anybody other than Fabian Cancellara win Paris-Roubaix? Paris-Roubaix is *probably* the best one day race in the world, then again I was likely to say the same of the Tour of Flanders a week ago but if there is any doubt as to whether it's the best, it most definitely is the hardest - it takes a skilled, well drilled and powerful rider to win 'the hell of the north'. Its strictly hard-men only, wimps need not apply and if anybody fits the bill, its obviously Fabian Cancellara. The question is, with his nearest rivals not participating, is there anybody who can prevent the almost-inevitable and how can is be done?...
After all of the hype (mine included) around the Tour of Flanders it was a pretty drab affair last week with the peloton scared to take the race to the favourites, producing very little in the way of action as a result but the race did tell us one thing - Cancellara and Peter Sagan really are the two most powerful riders in the bunch, and one of them is still a leap ahead of the other. When Cancellara left Sagan for dead on the Paterberg it was game over and an end to any 'who's strongest' speculation. Fabu was still daddy of the classic and unmatchable in raw power so with Paris-Roubaix lacking in a certain pinch of Peter Sagan certain riders really are going to have to step up and fill his shoes.
Roubaix is unlikely to be a 'drab' race thanks largely to the terrain. These are a whole different cobble to the Tour of Flanders. A mish-mash of deep set, broken ramshackle rubble would be a more accurate way of describing them and this always makes for some unpredictable riding, crashes and punctures. It also means the peloton can't bunch up like in a normal race. Riders need space in front of them to see where they are going and to avoid the many dangers and any bunch soon strings out on the cobbled sections as riders battle their own skill-level and have no choice but to ride at their own pace. It's not hills that create time gaps here because there simply aren't any and I can't think of any other 'flat race' that creates such splits. It's bedlam from start to finish and that itself adds excitement even if the outcome can be predictable.
Easy riding? Not likely...
The truth is, if Cancellara gets his nose in the wind at the right point of the race then it is race over. Basically let him get a yard in front with 30km to go and chances are you will not see him again until the finish line - it really is that simple. Surely then this makes the gameplan for everybody else simple? Don't let Cancellara get ahead, right? Yes, but it's far easier said than done. There are two methods from what I can see of beating Cancellara:
Teams literally team up. If individual riders can't work him over than surely a host of teams can? Unlike most races it's hard in Paris-Roubaix for any team to 'set the pace' at the front because the nature of the terrain makes it close to impossible but teams together can certainly take turns at making the pace high enough to prevent any single rider (Cancellara) simply riding away. If nothing else, two dozen eyes marking his every move make it much harder for him to pick 'that' moment when he finally decides to go - and he will have to go alone, that is a certainty because we know Cancellara can't simply ride to the finish with a group of riders in toe because he won't win the sprint...will he?
Attack early. Paris-Roubaix is one of the few one day races where you can get yourself up the road early and actually stay away. If you can't stay away then at least you can slip back into the sharp end up the race when it catches you up because whether you have gone early or left it late - everybody will be just as tired, the pain from the cobbles outweigh much of the benefit of drafting the riders in front. An early attack - or at least attacking ahead of Cancellara means at least he isn't at the front.
OK, so lets assume Cancellara isn't superhuman and he can be beaten tactically at least, it's still going to take a rider with the skill and strength to do it and whilst there are 25 teams here, there are very few riders capable of winning a race such as this.
I won't go into the strengths of individual riders and the tactics will have to be the same no matter who the challenging rider or team, but here are a list of riders who I expect to at least show themselves: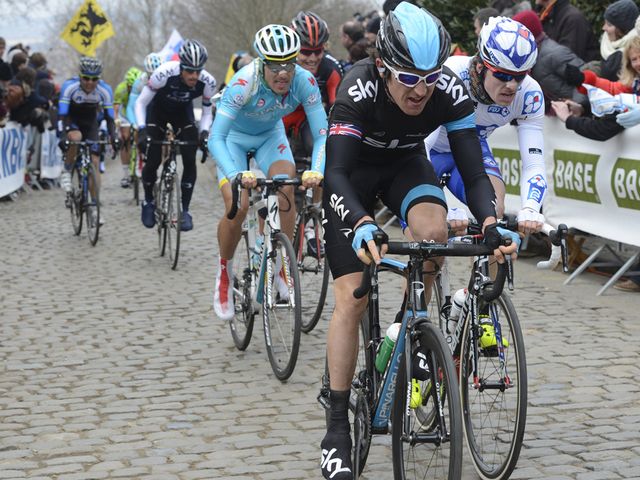 Sky need a result, but can Thomas
stay upright?
Sylvain Chavanel, Sep Vanmarcke, Pippo Pozzato, Van Summeren, Jurgen Roelandts, Taylor Phinney, Geraint Thomas, Ian Stannard, Yoann Offredo, Van Avermaet and Alexander Kristoff - all are strong and capable of winning if the right situation arises. Note I have included two Sky riders (they really need something from the Classics) and niether of them are Boasson Hagen who just doesn't seem to have the legs, indeed his fellow countryman, Alexander Kristoff outfinished him in Flanders so who's not even the best Norwegian in the race. Chavanel has been in good form since the seasons start and there are other capable riders in the OPQS squad and i'm certain we will see them try something - they are a team built for the classics and so far won little.
The Podium? I was asked this earlier on
Twitter
and picking the top three (at least the bottom two steps) is like picking the winning lottery numbers but here goes anyway:
1. Fabian Cancellara 2. Van Summeren 3. Geraint Thomas. In that order? Well, stranger things have happened...
*For a full preview of Sunday's Paris-Roubaix including the route, history and riders you can find everything you need over at Inner Ring HERE.