If one thing is noticeable about this years season so far, it's probably the weather. Much of Europe has been suffering a prolonged winter with races in France, Belgium, Spain and Italy all being effected in some way shape or form by lower than average temperatures, torrential rain and heavy snow like in this years epic Milan-San Remo - some have even been cancelled as a result. Last years Classics season was more noticeable for its mild, tame weather and this often makes a disappointing spectacle for viewers who have long come to associate the cobbles with hard weather and harder racing. If the weather remains as it is on Sunday then we might well be in for one of these hard races and if there are calls for cancellation or grumbles about the weather, spare a thought for those riders who took to roads in the 1985 Tour of Flanders...
I
n the run up to last years Ronde van Vlaanderen I wrote a piece on the 1919 edition and many other 'epic' editions of this race have taken place over the years but I've picked out the 1985 race this year because some of our recent weather has been similar to what the riders faced on that day. 173 riders line up at the start on a day race historian Rik Vanwalleghem described as 'a legendary Ronde, one which wrote Sport with a capital S. It was as cold as Siberia all day and the rain fell in torrents'. Only 24 riders finished.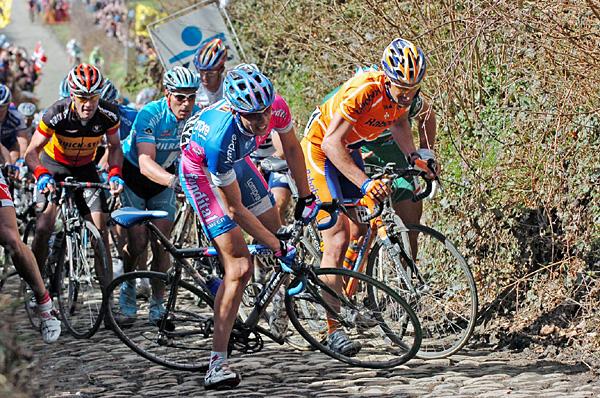 The Koppenberg Still Makes For Difficult Riding
It wasn't snow or even gales that caused most of the problems but the continuous icy rain and sub-zero temperatures made the cobbled climbs virtually impassable with the worst being the Koppenberg - a notably nasty little climb with steep gradients and deep set cobbles, the climb has been in and out of the race route since 1976 with it's most recent reintroduction in 2002 - and it was here where many riders fell, some from bikes others as they tried to climb the slippery cobbles by foot with bikes slung over shoulders. The high volume of water meant that even the narrow but cobble-less gutters became stream-like and were just as hard to stay upright on as the cobbles. Of course though these conditions were unfavourable to many, there are always some who use it to their advantage. The 'flahute' (hardest of hard men) smile through gritted teeth on these climbs and it was here in 1985 where Nikko Verhoven, Phil Anderson, and Eddy Planckaert formed the breakaway.
Hennie Kuiper and Eric Vanderaerden led the chasing peloton (or what remained of it) 30 seconds behind the breakaway, eventually catching them were the road became so broken that riders were now tackling mud-water rather than slippery cobbles. The bunch slowed down knowing that beneath the mud lay potholes and broken cobbles with the potential to take a rider or their tyres out completely until they eventually reach the bottom of the Berendries where Kuiper attacked and rode away solo.
With numbers thinning out behind and abandons coming thick and fast the danger was that any move had a high chance of staying away. Vanderaerden and Phil Anderson spotted the danger and began to bridge the gap to the race leader, catching him on the Muur de Grammont. Eric Vanderaerden was clearly on a good day (In fact, he was on a good year having just won Gent-Wevelgem and later taking two stage wins and wearing yellow for three days at the Tour de France) and neither his teammate or Kuiper could hold his wheel and he distanced both over the top of the Muur. With Anderson being Erics teammate it was down to Kuiper to do all the work to bring back Vanderaerden - there would be no turn taking here - but a 45 second gap soon evolved and Kuiper would never catch his man.
Eventual Winner, Eric Vanderaerden
It was a double blow because not only did Hennie Kuiper miss out on the win, but after all of his hard work in the chase Phil Anderson simply nipped out from behind and attacked with 4km to go, sealing second place on the podium and a 1-2 for Panasonic-Raleigh.
21 others crossed the line in a remarkable show of resilience - the route wasn't the 256km course of today, it was 271 kilometres in length. The 2012 edition of Flanders average speed amounted to around 42.1kmph in relatively good weather conditions, the 1985 course averaged a remarkable 39.6kmph in horrendous conditions without any of the modern tech and gadgetry that riders have available now. Hard men? Yes they were

.