The 'Race to the Sun' starts today with a prologue in west Paris and usually this marks a point in the calendar as one of the great early season stage races. Indeed the race holds a certain prestige and although in recent years riders have used it as build-up for the Flandrian classics or for form finding ahead of the Tour de France, winning here is a huge accomplishment in it's own right. But if this is a race of a certain prestige, then the start list looks a little lacklustre this year...
Paris-Nice is famed for is mixture of terrain with flat sprint finishes, rolling hills, mountain stages and time trials, it is in effect a miniature Tour de France. The winner must be a strong all-round contender harbouring the same abilities and qualities that it would take to possibly win a Grand Tour.
Last year of course many will remember this race for Bradley Wiggins domination of the general classification, taking the yellow jersey on stage 2 and carrying it all the way to the finish - the first time a Brit has done so since Tommy Simpson in 1969. The podium was rounded out by Lieuwe Westra and Aleandro Valverde - a pretty strong looking podium.
Porte Favourite?
This year appears to be a little different. There is no stand-alone favourite and in many respects this is likely to make for less domination, better racing and a more exciting finish but it does say something about a race when the current favourite (Richie Porte) is usually playing domestique to his Sky team-mates. Don't get me wrong, Richie Porte is a fantastic rider, a climber capable of holding his own amongst the best and a rider that should really have had more winning prospects a little earlier in his career. (Porte has been mentioned as one to watch for bigger stage races in the future - he is however 28 years old and coming into his peak years, it was only last year at the age of 27 when he was allowed leadership status in the Algarve, which he won.)
Other names mentioned as favourites include Tejay Van Garderen and Andrew Talansky, both up-and-coming riders but cream of the crop? Not exactly. So why has this race suddenly taken more of a back-seat amongst the big named riders? Where are Wiggins, Froome, Cadel Evans, Alberto Contador and Joaquim Rodriguez?
Well Bradley Wiggins isn't here to defend his title mainly because his goals are different this year - with a focus on the Giro d'Italia instead of the Tour it means taking a different route through early season to get the necessary benefits, and in the case of Wiggins this is unlikely to be achieved through racing as he is now following Sky's 'race less, train more' model put in place this year by Skys head of performance Tim Kerrison.
The other names in that list will be racing this week - at Tirreno-Adriatico starting this coming Wednesday. A race Ivan Basso describes as 'Ideal preparation for Grand Tours' Tirreno-Adriatico is far more undulating than Paris-Nice and features an extremely difficult mountain stage with a 14km 7% summit finish. Ivan Basso is right, this is a race for Climbers and Grand Tour riders.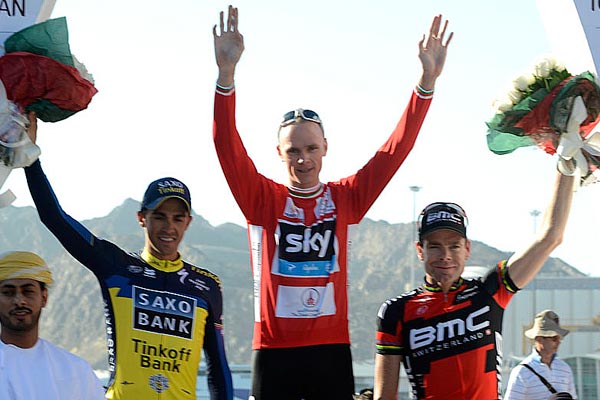 A podium worthy of the Tour de France In Oman this year
Of the two races Paris-Nice is the most prestigious, and well worth watching this year even if the start-list isn't quite the calibre of usual. In fact it's the 'unknowns' in this years race that could prove to be the entertaining factor. Tirreno-Adriatico is a mouth watering prospect though and will be a race everybody should be watching closely. There is no lack of calibre here with Vincenzo Nibali, Evans, Froome, Rodriguez and Contador all lining up at the start. The same line-up which made this years Tour of Oman such a fantastic race and with climbs a plenty, time trials and a very hard summit finish, it's this race that looks set to be a 'mini Tour de France', not Paris-Nice.
A full and comprehensive preview of Paris-Nice can be found over at the
Inner Ring blog
and I will be dipping in to the stages and keeping up with the race here as usual. A full preview of Tirreno-Adriatico can be found here nearer the time. Whatever happens, it's going to be one hell of a weeks racing ahead...