The Tour of Oman kicks off tomorrow and unlike it's Qatari counterpart the race takes a very different format. There will be sprinters here looking for some stage victories - but it's not all pan-flat dessert. There are some very steep and testing climbs and the likes of Cavendish will not be making inroads into the general classification here, thankfully. His former Sky team-mates might though, as both Wiggins and Froome line up at the start under a cloud of media speculation as to who will be riding for who come July...
From now until the Tour Bradley Wiggins and Chris Froome are only scheduled to race together twice and the Tour of Oman is one of those occasions. Unlike last year when Froome acted as faithful support for Wiggins right upto and during the Tour de France, the duo will take on very different schedules as Wiggins focuses on Giro success and Froome concentrates on his team leader role in France.
These roles though, are certainly not set in stone. In recent weeks there has been much speculation as to the role of each within the Sky team and just as Froome told the press he was excited to be leading Sky at the Tour, and that he felt 'ready', Bradley Wiggins was giving his own interview in which he hinted at a possible Giro/Tour double. It doesn't appear to be the harmonious relationship we thought it would be, though even Dave Brailsford admits that the in-camp rivalry could prove healthy, both mentally and creatively as both riders look to be at their very best. The rest of us meanwhile are hoping for a Greg Lemond / Bernard Hinault power struggle come July which would certainly make for an exciting prospect and a great spectacle as the two team mates fight against each other for leader status.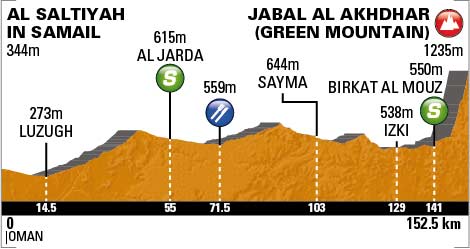 So to Oman - who will be riding for who, and for what? If at all? Well that is the question on everybody's lips and frankly it's helping add a little extra excitement to what is normally quite a sedate race. Any real action amongst the GC guys is likely to take place on stage 4 and the final climb to the summit of 'Green Mountain'. It's a 6km climb averaging 10% but the final slopes ramp up to around 14% - the winner of the race could well be decided here, and with a 1-2 type tactic from Sky it could be either Wiggins or Froome. We cannot forget though that there are plenty of other GC guys in this race - some of them will be looking to get the measure of Wiggins and Froome in preparation for the Giro and Tour, especially Wiggins as you would expect him to be trying to build towards some form ahead of the Giro which obviously comes pre-Tour. Another possible factor in how Sky will decide on the leader here.
While the media attention watches closely to see how Sky will play things out, remember that Cadel Evans, Vincenzo Nibali and Alberto Contador will all be on the startline too and it could be interesting to see how the Sky leadership dilemma effects them. One suggestion has been that the Froome/Wiggins thing has been formulated deliberately, tactically in order to leave rivals guessing at the Tour de France as to just who is in the right shape and just who the real opponent is. It's possible, and again this is one of the advantages for Sky having such an internal 'rivalry'. As Oman unfolds riders like Contador and Evans will be keeping tabs, looking out for the two pronged attack and studying the Sky tactics closely.
It all makes for an interesting race. Of course, it could just be that I'm looking into this way to much and there really isn't any great masterplan behind any of it, but at least it's giving us something to think about and providing an extra dimension to an early season race which would otherwise be easily dismissed.