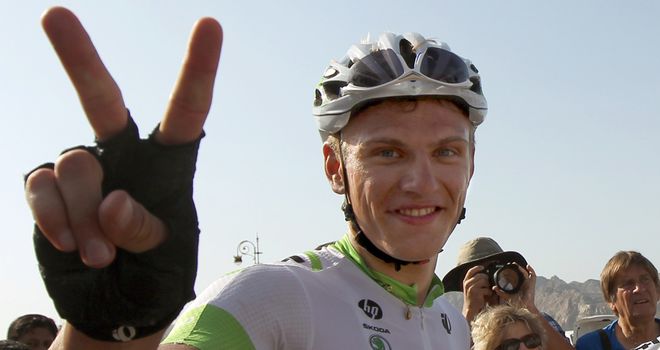 This week should see the announcement indicating which of the five remaining teams without a WorldTour licence for 2013 gets one. There are three spots remaining and in the running are Argos - Shimano, Lotto-Belisol, FDJ, Europcar and Saxo Tinkoff. However with Europcar deciding not to apply (thanks to financial committments) and instead rely on wildcard entries to next years top races, this is really only a fight of Four and even recent reports are to be believed, it's really only a fight between Argos-Shimano and Saxobank - which has opened a whole new can of worms...
An argument now rages as to which of these two teams should by rights land themselves with a 2013 WorldTour licence. The issue here again seems to be solely down to a 'doping' argument, with critics of Saxobank arguing that thanks to Alberto Contadors past misdemeaners and team boss Bjarne Riis having a not very 'clean as a whistle' image Argos-Shimano,- who are supporting clean riding with the likes of Marcel Kittel openly speaking out, should get the final licence and thus send a message to other teams that doping will not be tolerated. So, is this right?
I'm all for supporting teams like Argos-Shimano who champion young talent and take a strong anti-doping stance, indeed its teams like this and more importantly attitudes like this that should be moving this sport forward into a better, brighter, cleaner future but an argument that Saxobank should miss out to form a 'strong anti-doping' message doesn't really count for much when other, notably more 'dirtied' teams, have already been accepted for a WorldTour licence via the points system, teams such as Astana, Katusha, Movistar and Lampre - cutting out Saxobank now would only make them appear to be a scapegoat, sure it might make the UCI appear to be doing something, but it would be a large gesture with very little substance. The fact that Contador has already been sanctioned for his 'misdeameaner' brings the question that why should he and indeed his team be punished for a second time? Radioshack Nissan-Trek, with all of the fall-out from the Armstrong affair, Johan Bruyneel and Frank Schlecks positive are yet to suffer the same fate...
Of course everything is relative and much of these arguments are based on personal opinion - after all we are 'fans' of cycling and we are all looking to be entertained. Argos-Shimano have a great stance on anti-doping but it has to be said (in my opinion) that they do lack a certain 'entertainment value'. Indeed Argos-Shimano finished 6th in the league table for victories this year, well up on Saxobank but these victories came mainly in the form of sprints from Degenkolb and Kittel which is great, but sprint finishes do not always make for entertaining racing and while the outcome is great for the team, the experience often isn't very memorable for the viewer. An issue here is that Argos do not have much strength in depth - they themselves have stated no ambition to win a Grand Tour - it's all about sprints and stage hunting, there's an ambition to be clean and promote youth, but beyond that there isn't much ambition in the racing. Should a team get an automatic spot at each of the three Grand Tours if they don't even plan on winning one? The more contenders for a grand tour the more exciting the three weeks are, take away one of the top contenders like Alberto Contador and you are taking away a substantial amount of excitement and depth from the race. Lets not be silly though, to think that a team with the likes of Alberto Contador on it's roster wouldn't get an invite to the Grand Tours is ludicrous, isn't it?
Of course there is an argument that this is much of a muchness, it's likely both teams would win significant wildcard placements to feature heavily in the WorldTours next year, but if we are to pick a team based on this then surely logic would dictate that Argos-Shimano should get the remaining WorldTour licence, as Saxo having Contador means guaranteed selection at races, certainly for the Tour de France anyway.
Although I have mentioned a lack of strength in depth from Argos-Shimano, a counter argument is that Saxobank are a one man band, focusing solely on Alberto Contador. This in 2012 to some extent was true, but with the addition of Nicolas Roche and Roman Kreuziger amongst others to the 2013 roster theres certainly ambition here beyond Contador. Indeed where Argos-Shimano will not be focusing on any Grand Tour victories, it looks as though Saxobank could be looking at more than one in 2013. Based on the old
CQ
ranking Saxobank had 5948 in 2012, 1277 were Contadors which makes 4671 without - Argos-Shimano without exclusion finished the season with a total of 4967 points. This counters any argument that Saxobank were totally a one man band in 2012.
Whatever the facts and figures the decision will be made soon and some will like it, others will not. Both teams have reason for obtaining a WorldTour licence and I would prefer to see both get a spot rather than some of the other teams who already have. The arguments in this post for and against are only the opinion of myself, and there is sure to be readers who disagree and that's great, it just adds to the debate! So, who do you think should get the last WorldTour spot?