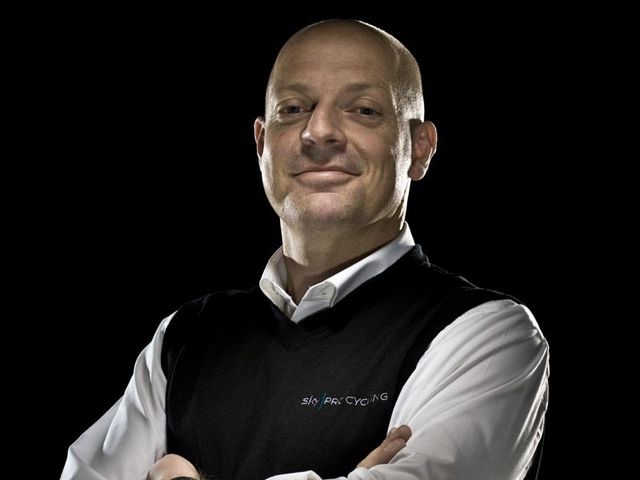 So today we finally get our hands on the report we all knew was coming, and which we all knew was going to be damning - for Lance Armstrong and for the UCI. While the details trickle through throughout the night thanks to the unveiling of the USADA's 200 page summary (the version they sent to the UCI is more like 2000 pages!) it's easy to forget this is about more than Lance Armstrong and US Postal. Already through the USADA's opening statement (
HERE
) we know that 11 witnesses admit to doping and will serve bans, but amongst them is a certain Michael Barry of 'clean as a whistle' Team Sky, herein lies a problem for Dave Brailsford to add to his recent woes...
When Team Sky first appeared on the scene headed up by Dave Brailsford, an anti-doping mission statement was made. Team Sky wanted to win a Grand Tour clean, and on the way this meant employing nobody - riders and backroom staff - that had any connection to doping. Period. Today we have to ask ourselves just how seriously did Sky take this mission statement and indeed, just how clean are Team Sky? Here is why:
Paul Kimmage
Ex-Pro turned journalist and staunch anti-doping advocate Paul Kimmage was due to join Sky for the 2010 tour to write about how the team went about racin clean, as he had done previously with the Garmin team in 2008. Kimmage says he had been given the green light, but on the eve of the race he was informed that 'Wiggins wasn't happy' and so couldn't join the team for the first 8 days of the race. Kimmage said
"It was Wiggins specifically who rejected it. I went over to Manchester, I sat down with Brailsford and everything was sorted. I hired a van specifically for the purpose of following them for the Tour, A day before I was to go to Amsterdam, Fran Millar called me and said there was a problem. I went to Amsterdam, sat down with them and Brailsford said, 'basically, look, Wiggins is not happy. Is it okay if you pick up the team in eight days time?" I said 'no, it is from the start or nothing,' and that is where it was left."
This immediately rang alarm bells with Kimmage who was never given any real reasoning behind the last minute decision.
Sean Yates
Though until now anything concerning US Postal and doping has been hearsay, it's been very loud hearsay and most people would agree that the whole era of racing and with that team in particular it's obvious to most that doping was happening. Part of that US Postal set up was Sean Yates, who also later rode for the drug troubled Astana team - if you were trying to set yourself up as a staunch anti-doping team, hearsay or no hearsay, Sean Yates would probably be the last person you would hire as directeur sportif.
Geert Leinders
When former Rabobank team boss Theo de Rooy admitted that doping was tolerated on the team until 2007, saying that it was a 'deliberate decision by the medical staff' alarm bells started ringing - apparently for the first time for Dave Brailsford - as Rabo's chief doctor at the time was Geert Leinders, whom Sky hired in 2010 even though they had previously stated they would hire doctors from 'outside of cycling'. Leinders left Rabobank stating that he was unhappy at the way the team was being managed after de Rooy was sacked even though the new management were making a commitment to clean up the squad and took a hard line on doping. Dave Brailsford made the mistake of denying he knew anything about Leinders - which goes completely against his meticulous, almost OCD obsession with 'marginal gains' and team management - the information on Leinders was there in the open for anybody to see but we are suppose to believe this was 'missed' by Brailsfords team? Brailsford promised to look into it but its took until this week for Sky to terminate Leinders contract and they haven't really told anybody whether they found any dirt on him or not, in fact it took a prompt from the press for Brailsford to even mention the Leinders thing again - his reaction made it apparent he was hoping the situation would 'disapear'.
Michael Barry
Today we have been informed that Barry gave evidence against Armstrong during the USADA's investigation and has issued this statement on his website:
"Recently, I was contacted by United States Anti-Doping Agency to testify in their investigation into the use of performance enhancing drugs on the United States Postal Service Team. I agreed to participate as it allowed me to explain my experiences, which I believe will help improve the sport for today's youth who aspire to be tomorrow's champions.

After being encouraged by the team, pressured to perform and pushed to my physical limits I crossed a line I promised myself and others I would not: I doped. It was a decision I deeply regret. It caused me sleepless nights, took the fun out of cycling and racing, and tainted the success I achieved at the time. This was not how I wanted to live or race".
Ok so he's come clean, but when Floyd Landis originally accused Barry of such practise in 2010, Michael Barry immediately released a statement of denial. To credit Dave Brailsford he did question Barry, but Barry continued to deny and Dave said until any hard evidence was found to the contrary then Barry would continue racing with Sky. If it becomes apparent that Barry lied to Brailsford as he had in his statement then that is one thing, if it turns out he confessed to Brailsford and Brailsford continued to allow him to race, then that could be catastrophic.
As the full file becomes available there will be questions to answer for many over the coming weeks, but one of those we were not expecting to have questions to answer is now Dave Brailsford. Barry has just retired, as has George Hincapie who also admitted doping today so they both get to walk away relatively unscathed, Brailsford though has spent the last two years with a tough anti-doping mission statement whilst also employing a dodgy doctor and now a convicted doper, his mission has failed and now he needs to answer why...
The full 200 page summary has just been released
HERE
Time to get reading...