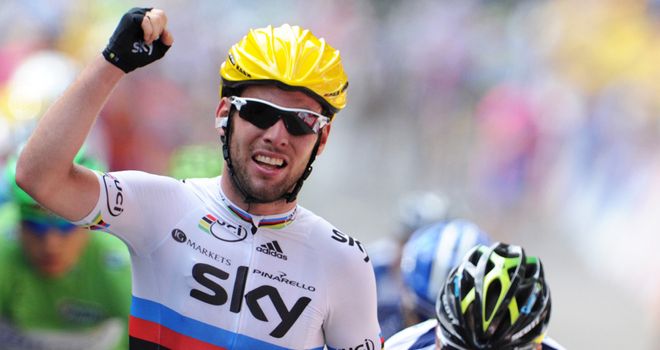 Stage 2 was always going to be one for the sprinters. The token fourth category climb before the midway point proved to be no trouble at all for the majority of the riders and certainly not the all new 'leaner, lighter' Mark Cavendish. If today's example of a perfect sprint was Mark Cavendish 'not at the top-end', then Kittel, Greipel and Goss will be left wondering just how is it possible to beat the Manx Missile?...
With the familiarity of Mark Cavendish taking victory on anything that was remotely flat (and even not so flat) during his time at HTC came the popular myth that he wouldn't be able to do it without a lead-out train (in which the teams sprinter is led to the line by his/her team-mates and delivered in the best possible position to the final couple of hundred metres, using the slipstream of his/her team-mates as a slingshot into the finish). Well if there are any doubters left after today's stage then they are misguided.
It has been well documented that in his preparation for the Olympic Road Race which takes place shortly after the Tour de France, Cavendish has lost 4kg in weight in an effort to improve his climbing ability ahead of the 9 laps of Box Hill he will need to complete to take Olympic glory. With this weight loss, a shift in training and a special effort in climbing it is pretty obvious that he would lose some of his raw power or what he calls his 'top-end sprint'. He came into the Tour looking for stage wins, not a green jersey, and even then said that he wouldnt win as often as is usually customary, hence the likes of Kittel, Goss, Renshaw and Greipel rubbing their hands together in glee fully expecting to out-pace Cavendish at the finish on the flatter stages. Not to be I'm afraid. What Cavendish now lacks in a slight loss of power he makes up for mentally and tactically - there was no lead-out train today as Cavendish jumped from wheel to wheel in a lesson in how to handle a bike and win a sprint. This missile is a cruise missile, pinpoint precision with devastaing power is what he does best.
Mark's goals are unclear. He insisted that Green wasn't for him this year. With his weight loss and continued capability in the sprint though Cavendish could be better placed than usual to contest the Green Jersey - last year it was made easier for the pure sprinter, this year most are of the opinion that a rider like Sagan is better placed as there are plenty of points to be had on the hillier stages too - but if Cavendish has improved his climbing, it might not be so clear cut for Sagan. Goss is similar in that way to Cavendish, he can handle a few lumps and bumps also so this could quite easily become a three horse race rather than a given for Sagan. For what its worth I still think Peter Sagan is best placed for the green, he even managed to put in a pretty decent sprint today and Cavendish remained insistent in his post race interview that he was here to help Bradley Wiggins take yellow, referring to himself as a 'bonus rider' - possibly not a good sign for a rider wearing the World Champions jersey, he was a little grumpy today pre-race also, whether this is rumblings of what's to come I'm uncertain but he also spoke of the teams lack of experience in the lead-out again today:
"I was alone in the last kilometre. I told Edvald with five kilometres to go just do your own thing. We haven't worked enough together when it's so hectic like that. If it had just been the sprinters then it would have been okay but there were climbers and GC riders at the finish. I'd rather just go alone."
What's clear from today though is help or no help, Cavendish will continue to win stages. This was his 21st, placing him Sixth (technically 5th, there are two riders in joint 4th) in the all time Tour stage winners ranking, with two more he will jump to third. At 27 years old there is certainly still time to take the great Eddy Merckx record of 34 stage victories...