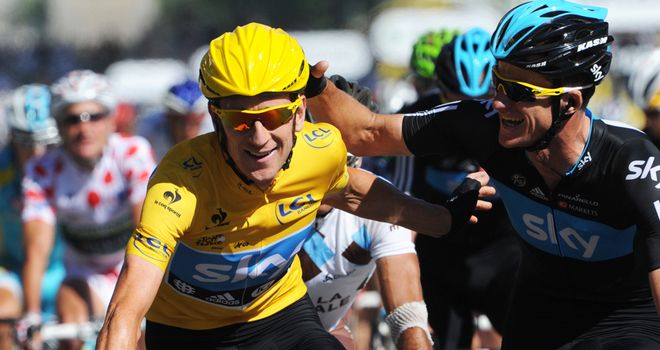 Today is monumental in British cycling. It's that simple. Not only was Bradley Wiggins crowned the first ever British winner of the General Classification on this 99th edition of the Tour de France but Mark Cavendish won the Champs-Elysees finishing sprint for the fourth year in a row, this time in his World Championships jersey and of course Christopher Froome rounded out a remarkable British tour finishing second on the podium. Bradley Wiggins rode into Paris a deserving winner and left critics in no doubt thanks to an astonishing final time trial in which he took over a minute out of Froome finally providing a definitive answer as to just who was the strongest rider in the Tour. It was a vintage year for Britain, but it wasn't exactly a vintage year for the Tour...
The result stands alone, nothing can be taken away from Wiggins victory, after all he can only race against those who turn up to the race. The above picture says it all really, Team Sky. Total dominance from the off, a masterclass in how to control a race and protect the jersey, a class above the other teams in effort and efficiency. It was not Sky's fault that nobody else wanted to take the race to them. However, it is true, from a cycling fans perspective, that Sky's tactics and dominance didn't make for exciting viewing.
There has been lots of comment about Sky being boring, their tactics being boring, that they have a boring focus on science and numbers etc etc, but really Sky did what they needed to do to win the race and they did in perfectly. If truth be told it is the fault of the other teams that the race become a bit of a snoozefest. Whether they couldn't crack Sky or whether they couldn't be bothered to is another question, but if nobody is going to attack and ride for the win then we certainly cannot blame Sky for that. Part of the problem is the UCI points system - indeed more points can be gained and money earned thanks to a top 20 finish overall than in a stage victory, riders are happy to get a top 10 or 20 position, defend it, and ride to Paris comfortable in the knowledge that they earn points, money and most likely a contract for next year. Theres little incentive for riders to 'ride for the win', though whether we blame the riders or the system is a different story. Add to this a massive crash in the first week that ended any challenge from several of the favourites, most notably Ryder Hesjedal, via time loss or injury plus the non attendance of Andy Schleck though injury and Alberto Contador due to suspension and it was always going to make for a less than impressive race. Indeed for many Brits the saving grace was that Sky were winning, if for example somebody like Dennis Menchov and his team rode the race in the yellow jersey, in the same manner as Sky then there would be far more disinterested Brits. Circumstance however is all part of the Tour and indeed the sport, so moving on from the Tour, what's next?
Well many cycling fans often talk of the 'Post Tour Blues' as a quiet period of racing usually follows the Tour and we are left twiddling our thumbs a little. Indeed not every spectator is interested in the majority of racing and their season viewing starts and ends with the Tour, but this year there is still a lot left to talk about. Two of the big three grand tours can now be ticked off our list, other than the final outcome the Tour was a bit of a disappointment, in fact I enjoyed the Giro d'Italia far more this year but interestingly this years most 'exciting' grand tour could still be yet to come...
First though we obviously have the Olympics which will certainly help to keep cycling fans entertained and indeed the Road Race is only a 6 days away - you will notice though that this blog is the 'ramblings of a road cycling enthusiast', not 'ramblings of a track cycling enthusiast' so my interest will start with the road race and end with the time trial, as far as this blog is concerned anyway.
With the Olympics done and hopefully a whole host of gold medals for several of our cherished road riders we can begin to look forward to that final grand tour. The Vuelta a Espana begins on the 18th of August and usually amongst die hard cycling fans it is considered the weakest of the Three - often not helped by its somewhat characterless landscape, compared to the Giro and Tour at least (lots and lots of sand and rocks) and a less than 'A list' line-up. This year is slightly different however. For those who felt the Tour lacked mountain top finishes and tough climbs, well this is the race for you. The parcours has already been described as 'insane' and 'impossible'. Indeed it features 13 medium/high mountain stages and a total of 10 summit finishes. If you like to watch riders crack in sheer agony then there should be plenty here, but it isn't just the route that makes this years race interesting. Andy Schleck will be looking to consolidate his poor year and make amends here. After missing the Tour de France he is certain (if fit) to take to the Vuelta start line and alongside him Christopher Froome - we have seen what his climbing legs can do in the Tour and now he will be let loose as Sky's team leader in the high mountains of Spain. Topping off an already 'A list' of contenders will, of course, be Alberto Contador. After sitting out the majority of the season on the sidelines thanks to a doping suspension, Contador makes his come-back on the 6th of August at the Eneco tour and will line up at the Vuelta on the 18th as the definite race favourite. He spent the season training hard and even riding several of the key stages of this years Vuelta as preparation. Prepare for a masterclass in 'how to make climbing look easy'. If you missed aggressive climbing attacks in the Tour there will certainly be no pace setting here as riders look to battle it out on a whole host of upward slopes...
It's been a remarkable year so far, especially for us British. Wiggins has smashed a lot of records this year, not only has he become our first ever Tour de France winner, but the only winner to ever win Paris-Nice, Tour of Romandy, the Dauphine and the Tour in the same year - not something even the great Eddy Merckx achieved. This year Wiggins has been in a class of his own and he certainly will go down in history as being 'one of the greats' - Not bad for a Track Pursuit rider! We are not quite ready for the off season blues just yet though, as its onwards and most certainly upwards from here on in...