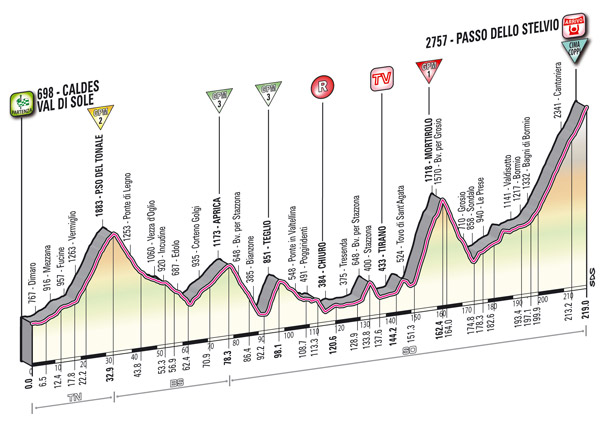 Here is stage 20 of the Giro d'Italia. Beyond this point lies only one more stage of this Italian Grand Tour, a 30km pan flat Time Trial which in itself could lead to a final shake up of the General Classification, especially if Ryder Hesjedal has anything to do with it. First though is this beast of a mountain stage, touted as the possible deciding stage of this race it finishes with the fearsome Passo Dello Stelvio...
Literally the highest point of this years WorldTour programme, standing at 2757 metres above sea level no rider will climb highers in a race this year. The climb itself is 21.5km in length this year because the riders will be attacking the climb on a different road from a different side to previous years, the west, its a little easier and 2km shorter than in previous Giro's which has been ridden from the eastern side. There are 40 hairpin bends on the way up and the final 4km of the climb are by far the most difficult, as you can see below.
This is a brute of a climb, no doubt about that and no photograph will do justice to what the riders are about to take on, but this one comes close:
It's not a stage just about the Stelvio though as there are preceding climbs, one that ramps up to 15% in parts and is home to the Marco Pantani memorial - the infamous Mortirolo. This climb will definitely sort the men from the boys and only the hardiest climbers will make it over the top ahead of the pack.
In short this is a stage that will test every single contender, its up and down right from the off and suits the pure climbers, especially come the finish - this could suit the likes of Possovivo who will look to attack and take alot of time ahead of tomorrows TT where he will be expected to lose time on the favourites. If the likes of Pozzo, Basso, Scarponi and Rodriguez haven't dropped Ryder Hesjedal by the summit of the Stelvio, then the race will be his to lose, as in comparison to the aforementioned, Hesjedal is a fantastic time trialist. Only time will tell...