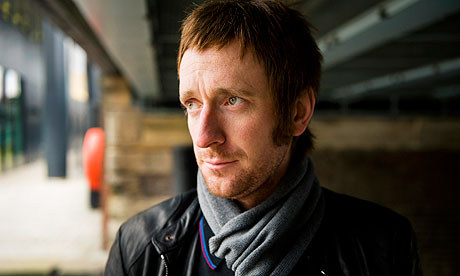 Who needs Mark Cavendish sprinting to victory for the green jersey in this years Tour de France when you could just take Bradley Wiggins and win Yellow and Green? All jokes aside, Wiggins win in yesterdays bunch sprint at the end of stage 1 in Romandie really has made a statement ahead of this years Tour de France...
The Sky man used his track pursuit strength to force his way over the line ahead of the other favourites and took an impressive, if not unusual victory. Its rare to see Wiggins even contest a sprint, let alone win one in such style. 25 kilometres earlier he had suffered a puncture and was distanced by the leading group. Teammates Porte, Rogers and Sivtsov dropped back to wait for their leader and managed to drag him right back to the front of the peloton with 10km to go resulting in not just a great win for Wiggins, but a fantastic show of dominance from the rest of the team. Wiggins said it was the adrenaline from the puncture and the race to get back onto the front that drove him to win the sprint - and indeed the leaders jersey, taken straight from the back of teammate Geraint Thomas who suffered on the final climb thanks to his recent track specific training.
Until yesterday we didn't really know just who was leading Team Sky at the Tour de Romandie, now Wiggins has said that he definitely wants to win it which means he will be defending the yellow jersey for the next 4 days. Yesterdays win was not just a statement of intent for Romandie though, it was a warning to anyone hoping to contest the overall classification in the Tour de France this year. I'm pretty sure Wiggins will win Romandie. I don't want to start counting my chickens but...
Bradley Wiggins has looked the part all season. He came into 2012 already in form thanks in part to crashing out of last years Tour. His closest rivals have been flagging to say the least. He finished third overall in the Volta ao Algarve in which he played a supporting role to winner Richie Porte. He took the Yellow and Green jersey in Paris-Nice. Now Romandie could work its way onto his palmares.
In contrast BMC rider and last year's Tour winner Cadel Evans has had a slow start to the year, blighted by illness - most recently a sinus infection. So far this year he has won the Criterium International but in his Tour winning year last year he had already finished top ten in Catalunya, won Tirreno-Adriatico and was well on his way to winning Romandie. If that's the start to a season it takes to become a Tour winner, then it's looking up for Wiggins who's 2012 palmares are closer visually to Cadels 2011.
Inner Ring has given an insight into the problematic start to the season for Andy and Frank Schleck (
HERE
) and it makes for worrying reading. Andy Schleck has a knack for showing up for 3 weeks in July and riding well and that's how he likes it. Although he shows little interest in anything other than the Tour de France, he is usually in better form than he is currently and without the current backstage rumblings adding to the mix. So far Andy has yet to really show anything in the way of Tour winning form, infact he had four DNF's (Did Not Finish) in the lead up to Liege-Bastogne-Liege. He also distinctly lacks any kind of Time Trial ability in comparison to riders like Contador, Cadel Evans and of course Wiggins and this years tour is very TT heavy compared to recent years. I find it increasingly difficult to picture anybody winning it this year without being a decent Time Trialist. Even if Andy Schleck finds that magical July form, he will still be up against it because of this.
Alberto Contador isn't riding for obvious reasons and he's the man I would have considered to be Wiggins closest rival this year. He climbs like no other but also has a better than average Time Trial. His loss is definitely more than a Wiggins 'marginal' gain.
Its not a four horse race though, there's still two months until the start of the Tour, plenty of time for the big names to build some form and obviously there are other riders in possible contention for this years Tour - I will be reviewing the situation in my preview at the start of July. As it stands now though, it looks as though this years Tour is Bradley's to lose. Considering the numerous miles of Time Trialing in this years route and his ability to ride with the best on the climbs, Wiggins was already 'a' favourite on paper. It's a natural conclusion. Only Tony Martin and Fabian Cancellara can touch him when it comes to a TT and neither of them will be contesting the GC at this years Tour. In his current blistering form could Bradley Wiggins have just become 'the' favourite? I would definitely not bet against him right now. With the Tour prospects and London 2012, this year is certainly shaping up to be a good one for British Cycling.